Seasonal Affective Disorder (SAD) Group Beginning December 8th
Many people feel tired, irritable, and distractible in the winter months. They may have less energy than usual and find they don't enjoy things the way they used to. If this tends to happen to you around this time of year, then this may be Seasonal Affective Disorder (SAD) or its milder sibling, the "winter blues."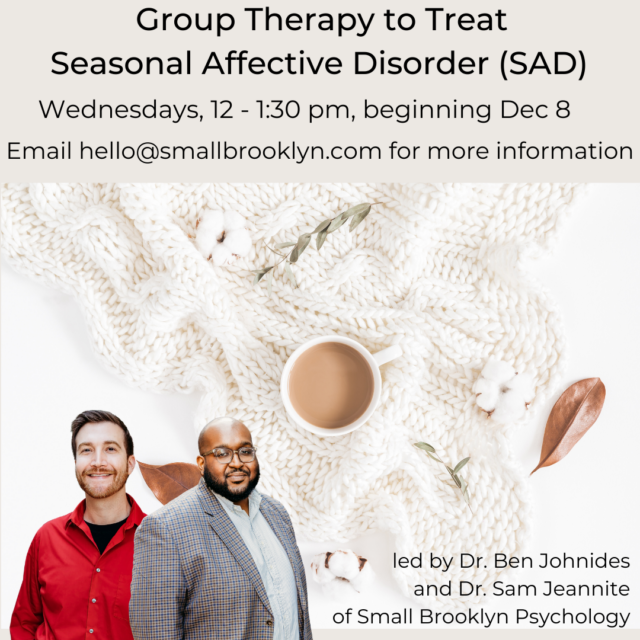 This clinical group, run by Dr. Sam Jeannite and Dr. Ben Johnides, will treat these symptoms using effective cognitive-behavioral techniques to help you this winter and beyond. Treatment will include:
•  psychoeducation about SAD
•  behavioral activation: tools to get you moving
•  cognitive restructuring: helping you re-orient your unhelpful thoughts
•  relapse prevention: strategies to keep the blues from coming back
This group will:
•  Begin Wednesday, December 8th
•  Consist of 90-minute sessions, on Wednesdays, 12:00 – 1:30 pm (with a short break midway)
•  Be in person at our offices at Industry City
•  Have a maximum of 8 participants, who must be vaccinated and masked
•  Last 12 weeks in total; participants need to commit to the full 12 weeks
•  Cost $100 per session, reimbursable by out-of-network insurance benefits
•  Be payable up front or according to an agreed-upon payment plan
To register for this group, please email hello@smallbrooklyn.com!
Parents of Teens Support Group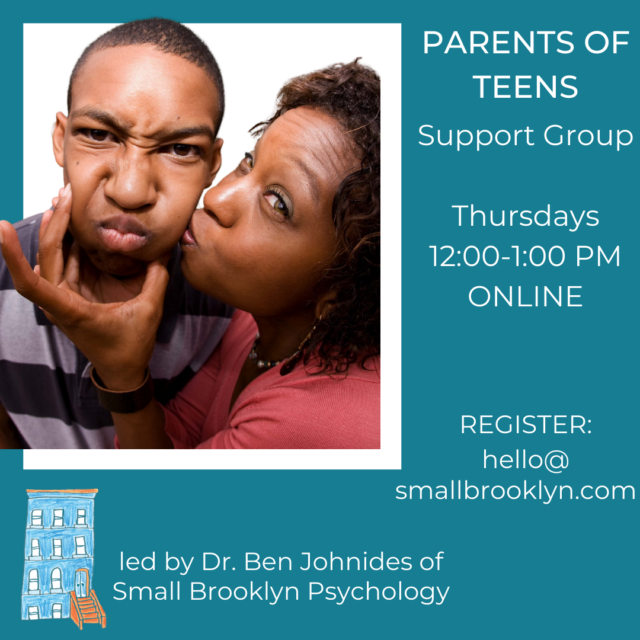 Parenting a teen can be stressful! This support group aims to bring parents of teens together to provide emotional support, solidarity, and general parenting strategies among others going through the same trials. The group will be facilitated by Dr. Ben Johnides.
This group will:
•  Begin Thursday, November 4th
•  Be held over Zoom on Thursdays, 12:00 – 1:00 PM
•  Consist of 10-15 people
•  Focus on typical struggles in parenting kids 12-19 years old
•  Run in sessions of 3 months. Participants commit to 3 months at a time, and people can cycle in and out at the 3-month mark for the next session.
•  Cost $35 per session, payable as a block fee for 3 months
This group will not:
•  Be a treatment group– we won't be providing mental health or medical treatment in this group but are rather facilitating peer emotional support
•  Be a skills group– we won't be teaching skills under any set curriculum
•  Be an in-crisis group– any teens or families in crisis would be better served by working with Ben or one of our other therapists in therapy
In general, support groups are so helpful, but they're not a substitute for individual, parenting, or family therapy– this is our specialty, so please reach out to us if you'd like to discuss clinical treatment!
To register for this group, email hello@smallbrooklyn.com.